23 feb

Patiënt beleving op de afdeling Radiologie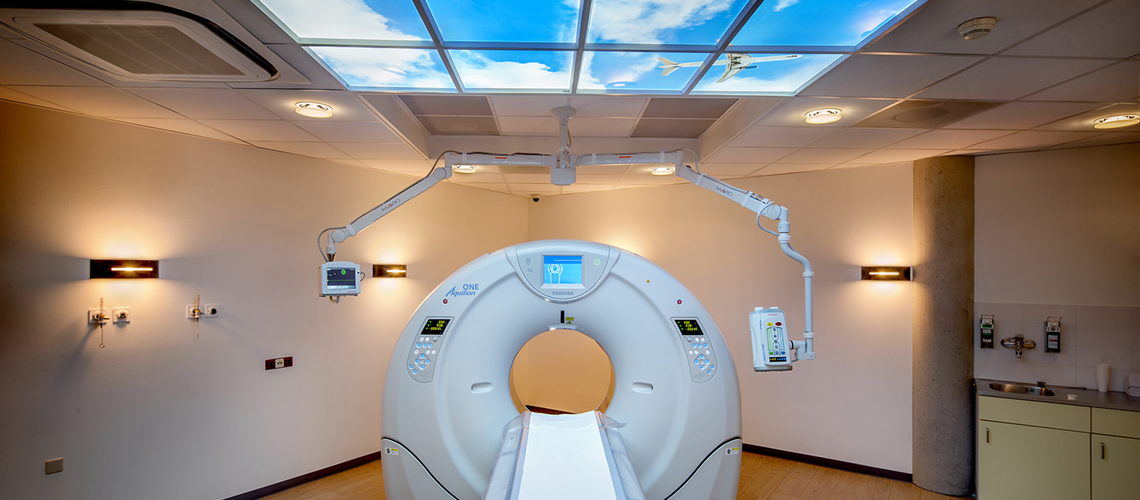 De afdeling Radiologie heeft een centrale rol in het ziekenhuis en de rol van radiologie bij ziektebeheersing wordt steeds belangrijker. De afdeling Radiologie zorgt er namelijk voor dat patiënten op het juiste moment de juiste behandeling krijgen. Het beeldvormend onderzoek is belangrijk bij het stellen van de juiste diagnose, het bepalen van een passende behandeling en het controleren van het effect van een behandeling.
Een MRI onderzoek kan een intimiderende ervaring zijn voor patiënten. Het kan gevoelens van angst en nerveusheid oproepen of een gevoel creëren van machteloosheid.[1] Gevolgen van nerveusheid, zoals een versnelde hartslag en een hoge bloeddruk is aanwezig bij bijna 30% van de patiënten die een MRI onderzoek ondergaan.[2]
Een rustige patiënt ligt goed stil tijdens het scan proces en dat komt de beeldkwaliteit en efficiëntie ten goede. Een onrustige of angstige patiënt is meer geneigd om te bewegen en dit zorgt voor onbetrouwbare MRI of CT-beelden. Vaak betekent dit dat er opnieuw gescand moet worden. Ziekenhuizen hebben dus belang bij het leveren van een goede patiënt ervaring omdat dit de beeldkwaliteit en efficiëntie ten goede komt.
Patiënt beleving is een cruciale factor in het succesvol opereren van een radiologie afdeling. Dat is waarom hebben gekozen voor Lumick panelen. Patiënten zijn positief en MRI personeel erkend dat de afbeeldingen van natuur een rustgevende werking hebben. Door het bieden van positieve afleiding aan patiënten helpen de Lumick panelen bij het verminderen van bewegings-gerelateerde problemen en zorgen ze voor een beter eindresultaat.
Wanneer je als ziekenhuis het aantal bewegende patiënten weet terug te dringen met Lumick panelen. Dan reduceer je ook het aantal herhalingsscans, wachttijden, nieuwe afspraken en personeel dat moet overwerken. De Lumick panelenzijn een unieke combinatie van daglicht simulerende led lampen en hoge resolutie fotografie van natuur. Op deze manier krijg je binnen écht het gevoel dat je direct naar buiten kijkt en onder een zonnige blauwe hemel behandeld wordt. De kleurtemperatuur van onze verlichting komt overeen met daglicht waardoor patiënten ook binnen de rustgevende positieve effecten van daglicht ervaren.
Voor patiënten is een focus op patiënt beleving snel duidelijk en zij zullen hun ervaringen delen op social media met vrienden en familie. Positieve ervaringen van patiënten kunnen zorgen voor een hoger aantal verwijzingen, maar slechte ervaringen zorgen net zo goed voor minder patiënten en dus minder omzet. Een focus op patiënt beleving kan je als ziekenhuis dus helpen te onderscheiden op een positieve manier.
Dat is de boodschap die wij willen overbrengen aan ziekenhuizen. Patiënt tevredenheid wordt steeds vaker gezien als belangrijke indicator van de kwaliteit van de dienstverlening door een ziekenhuis. Creatieve manieren om de patiënt beleving te verbeteren worden een steeds belangrijker onderdeel van het zorgproces. De resultaten zullen verschillen per locatie, maar Lumick panelen zien er mooi uit en als ziekenhuis laat je zien dat je patiënten altijd het beste probeert te bieden.
Carlsson S, Carlsson E. 'The situation and the uncertainty about the coming result scared me but interaction with the radiographers helped me through': a qualitative study on patients' experiences of magnetic resonance imaging examinations. J Clin Nurs. 2013;22:3225-34.
Grey SJ, Price G, Mathews A. Reduction of anxiety during MR imaging: a controlled trial. Magn Reson Imaging. 2000;18:351-55.
Tornqvist E, Mansson A, Larsson EM, Hallstrom I. Impact of extended written information on patient anxiety and image motion artifacts during magnetic resonance imaging. Acta Radiol. 2006;5:474-80.